Forex scalping trade
Forex scalping trade is an intraday trading strategy in which traders buy and sell currency with the goal of shaving small profits from each trade. In forex, scalping strategies are typically based on an ongoing analysis of price movement and knowledge of the spread. When a scalper buys a currency at the current ask price, they do so under the assumption that the price will rise enough to cover the spread and allow them to turn a small profit. In order for this strategy to be effective, however, they must wait for the bid price to rise above the initial ask price—and flip the currency before the price fluctuates again. The main objective for forex scalpers is to grab very small amounts of pips as many times as they can throughout the busiest times of the day.
What makes scalping so attractive to traders?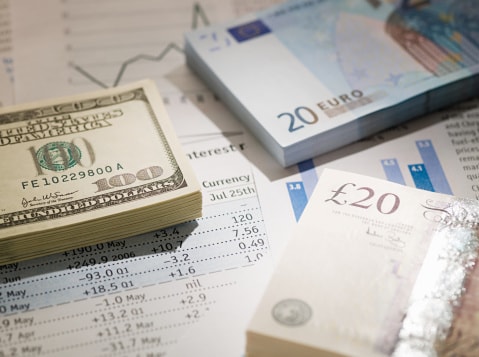 Scalping can be very profitable for traders who decide to use it as a primary strategy, or even those who use it to supplement other types of trading. Adhering to the strict exit strategy is the key to making small profits compound into large gains. Smaller moves happen more frequently than larger ones, even in relatively calm markets. This means that there are many small movements from which a scalper can benefit. Scalpers can place up to a few hundred trades in a single day, seeking small profits. All positions are closed at the end of the trading day. Because scalpers basically have to be glued to the charts, it is best suited for those who can spend several hours of undivided attention on their trading. It requires intense focus and quick thinking to be successful. Not everyone can handle such fast and demanding trading.
A guide to scalping forex
Forex scalping is a short-term trading strategy​ that attempts to make a profit out of small price movements within the forex market. Scalpers will buy and sell a foreign currency pair, only holding the position for a period of a few seconds or minutes. They then repeat this process throughout the day to gain frequent returns, by taking advantage of price fluctuations.
In the forex market, another name for the smallest price movement a currency can make is a pip​​ (percentage in point), which traders use to measure profits and losses. Forex scalpers usually aim to scalp between 5-10 pips from each position, aiming to make a more significant profit by the end of the day. Forex scalping is a form of arbitrage trading.
Tools Used by scalpers

Because scalpers are so reliant on the spread, it's important for them to have a good relationship with market makers who determine bid and ask prices for a given currency. Oftentimes, scalpers will hold professional trading accounts with brokers to access lower spreads. Their success also hinges on their use of a low-latency platform that is capable of executing multiple trades at a time with speed and precision.
To determine what position to take, scalpers use technical analysis and pattern recognition software to confirm trend direction and momentum, locate breakouts and divergences, and identify buy and sell signals in their target period. Like other day traders, they may also track economic events that are likely to impact short-term price movement.
Pros and Cons of forex scalping

If you're making a handful of trades per day, earning a few pips per trade can quickly add up to a substantial sum. But handling such a large volume of trades also comes with its own challenges. For any trader, managing more than one trade adds complexity to the process. In such a volatile, fast-moving market, the stakes are amplified. Succeeding as a day scalper demands unwavering concentration, steady nerves, and impeccable timing. If a trader hesitates to buy or sell, they can miss their (already limited) profit window and dwindle their resources.
The main goal of scalping is to open a position at the ask or bid price and then quickly close the position a few points higher or lower for a profit.
A scalper wants to quickly "cross the spread".
For example, if you go long EUR/USD, with a bid-ask spread of 2 pips, your position instantly starts with an unrealized loss of 2 pips.
Remember, when you buy, you buy at the ask price. But in order to exit, you need to sell, which is the bid price.
A scalper wants that 2-pip loss to turn into a gain as fast as possible. In order to do this, the bid price needs to rise enough so it's higher than the ask price that the trade initially entered at.
You might be a forex scalper if:
You like fast trading and excitement
You don't mind being focused on your charts for several hours at a time
You are an impatient person who doesn't like to wait for long trades
You can think fast and change bias, or direction, quickly
You have fast fingers (put those esports skills to work!)
You are a surgeon!